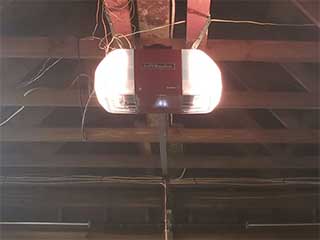 Constructed from a range of different components, garage doors and their parts all come together to create this complex machine. The most intelligent component, the opener, enables the system's automation. With one click of a button, the remote will kick your opener into gear, setting the door in motion to lift and lower. In the event of a malfunction, it can be difficult to identify the root cause of the problem. Fixing any issue is challenging, so leave it to someone with extensive experience in dealing with different makes and models!
The Perfect Model
When purchasing a new garage door opener, it's important to ensure you select one that suits your home and lifestyle. Take into consideration how many times a day you are likely to use your door. Is noise an issue and what is your budget? Our team will help you make the right decision based on years of experience and product knowledge.
Drive Systems Explained
Buying a new unit? Choose one of three drive options. Most common is the chain drive which is inexpensive, reliable but somewhat noisy, especially if your garage is integral or close to home. Second, is the screw-drive based door opener which has a tendency to cost more but needs less maintenance and is quieter. However, if you are looking for total silence, choose a belt drive.
Additional Opener Features
When choosing a new garage door opener, it's important to take noise, reliability and cost into consideration, but there are a wide range of other features to explore too. For instance, some openers come equipped with the Aladdin Connect or the Chamberlain MyQ, both of which allow you to control access to your garage via a Smartphone. Others, including the LiftMaster Security Plus or Genie Intellicode, use rolling code technologies which make it more difficult for intruders to hack your garage access code.
Count On Us
Our team at Garage Door Repair El Dorado Hills offers reliable and effective solutions to all your problems. Contact us to arrange a consultation.
We also take care of:

New Garage Doors

Install New Panels

Opener Adjustment

Cable Replacement