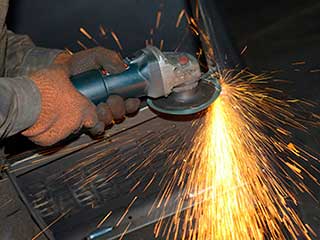 Not only are we one of the most experienced garage door providers in the area, we're also automatic gate repair specialists. Our highly skilled expert technicians have a wealth of experience and can provide solutions for a whole range of related problems.
It's An Open And Shut Case
No matter how many times you attempt to activate your gate system, it just won't open! Does this sound familiar? Whether the issue is due to a faulty remote control or a circuit malfunction within your opener unit, rest-assured, we can help. Our local technicians will look for burnt wires within your opener's circuit board and carry out testing. We'll either repair or replace the offending component or make the repairs necessary to get your gate operating how it should be!
Solving Mechanical Issues
Should the electrical parts of your gate system not be functioning properly, the issue may be of a mechanical nature. Our team can help with this too. Your opener will fail to work if a motor gear is worn out. Alternatively, you may simply be dealing with a broken hinge. Regardless of the problem, however big or small, we can repair or replace any component that is causing your gate to misbehave.
Equipped to Handle All Systems
From swing systems to rolling or sliding gates, our local team of skilled technicians can effectively handle systems of any model and make. As part of our gate repair and maintenance routine, we'll perform a detailed examination of your system, lubricating joints and replacing any under-performing components. We'll ensure your gate system works to its full capacity, for longer.
Contact Our Team Today
Our team at Garage Door Repair El Dorado Hills can help with all of your gate system-related problems. Our experts are on hand to provide a quality service and professional assistance quickly and effectively. Contact us today to make a scheduled appointment!
But wait, there's more! We also offer:

Linear Gate Intercoms

BSL Gate Opener

Sliding Gate Rollers

Solid Sliding Gates