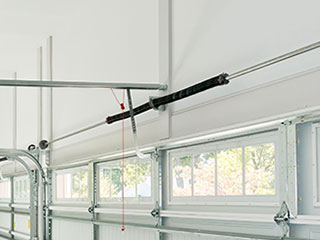 They might look small, but your garage door springs are vital for your door's movement. They counterbalance the door's weight and support it while it moves. In case one of them broke, you won't be able to open the door.
Different Types Of Springs
There are two main types of springs, extension and torsion, with additional spring options under each type. Torsion springs use a function of torque and twist and coil as pressure is applied. These springs are mounted to the header of the door. They are stronger and retain a longer life than the extension springs. Extension springs are most commonly used on commercial properties. They are usually installed on both sides of the door and are attached to the door's swing arms. They are named after their role of stretching and extending as force is applied to them.
Safe Spring Adjustment
If you notice your garage door isn't shutting evenly, isn't closing fully or properly, or is opening or closing too quickly, the springs might need to be adjusted. Depending on your problem, the spring tension will either need to be increased or decreased. The type of spring system you have will also come in to play in determining how the springs will be adjusted. Our professionals will be able to determine the problem and find the best spring adjustment for your door.
Professional Spring Replacement
Daily garage door use can cause the springs to go bad and wear out. When this happens, the springs need to be replaced. Some of the signs that your springs need to be replaced are loud squeaks, the door not opening or closing properly, uneven opening or closing and if you have accidentally ran into the door. The most obvious sign is, of course, if you can't get your door to open at all. Our team can help you identify whether your springs need to be replaced and safely replace them so that your door can run smoothly.
Schedule Your Service Today!
Spring problems are never to be neglected. If you think there might be something wrong and need a reliable technician nearby, that's us! Our team is at your service.
Looking for more? We also offer:

Damaged Parts Replacement

Oil Tempered Torsion Springs

Garage Door Remote Clickers

Roll Up Garage Door Services