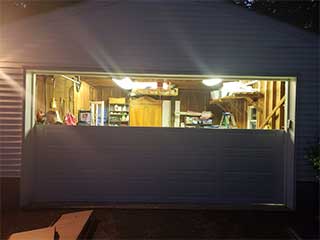 After more than a decade in this industry, we've handled every type of door repair problem there is. From worn-out drive gears on opener units to dented, damaged and corroded door panels, our team can handle anything you throw at them. We'll also work quickly and reliably to get the job done, no matter what it is.
Replacing Opener Circuit Boards
One of the trickiest problems to diagnose is a fault within the circuit board of the opener. These can present a number of different issues, but any problem must be tackled quickly and effectively - the opener contains numerous vital safety systems that can be compromised if the circuit board doesn't work properly. We supply replacement boards from all major manufacturers, so you can rest assured that our team will quickly swap out the faulty component for a fully functional new one.
When Springs Wear Out
A worn, weakened or corroded door spring can easily fail. When this happens, the door will almost always be unusable, and will need a new set of springs as quickly as possible. Our technicians are experts when it comes to recognizing the warning signs of a failing spring, and will be able to quickly supply a new component. We recommend that you contact our team if you notice any sagging or wobbling, and never try to work on these components yourself.
Replacing Faulty Rollers
A good garage door requires smooth, reliable rollers on which to move, but these crucial components can become clogged with dirt, corroded or even damaged over time. If yours need to be replaced, our team can look after this for you. A new set of rollers can also help to extend the service life of more expensive components such as the opener - we strongly recommend doing so when necessary.
Don't Wait To Arrange A Repair
Our team offers emergency appointments, weekend services and a 24-hour support line. Don't put up with a broken door - get in touch with Garage Door Repair El Dorado Hills today.
We also offer the following:

Overhead Door Repair & Installation

Opener Sensor Repair & Replacement

Galvanized Torsion Spring Installation

Garage Door Opener Track Maintenance